Following the 15th Triennial General Assembly, the new EXCO members will serve a three-year term from September 2023 to September 2026.
By Sng Ler Jun
Last Thursday (21 September), the Singapore National Co-operative Federation (SNCF) organised the 15th Triennial General Assembly (TGA). There, affiliated co-operative representatives to SNCF elected new members to helm SNCF's Executive Council. The last TGA was held during the pandemic in 2020.
The Executive Council members come from different co-operatives across different sectors—Service, Credit and the National Trades Union Congress (NTUC)—in Singapore. The Executive Council also renewed the appointment of Ms Raen Lim and Ms Wily Wan, adding bench strength to the council.
The new Executive Council will work closely with SNCF's team to steer the Singapore Co-operative Movement forward. They will serve a three-year term from September 2023 to September 2026.
The new Executive Council Members are:
Mr Tng Ah Yiam, NTUC FairPrice Co-operative
Ms Thian Ai Ling, NTUC First Campus Co-operative
Mr Shareef Bin Abdul Jaffar, TCC Credit Co-operative
Mr Sanjeev Tiwari, AUPE Credit Co-operative
Mr Bryan Tan, NTUC Enterprise Nexus Co-operative
Ms Evelyn Siow, SeaCare Co-operative
Ms Mavis Ren, The Singapore Teachers' Co-operative
Dr Leong Choon Kit, GP+ Co-operative
Ms Fenny Halim, NTUC FairPrice Co-operative
Mr John Raghavan, Singapore Government Staff Credit Co-operative
Mr Mike Chiang, Love Empowered Co-operative
Ms Raen Lim, Splunk Asia
Ms Wily Wan, Meta
Fresh faces to the Executive Council include Dr Leong, Ms Siow, Mr Tiwari and Ms Ren. Of the 13 members, six of whom are female directors or leaders.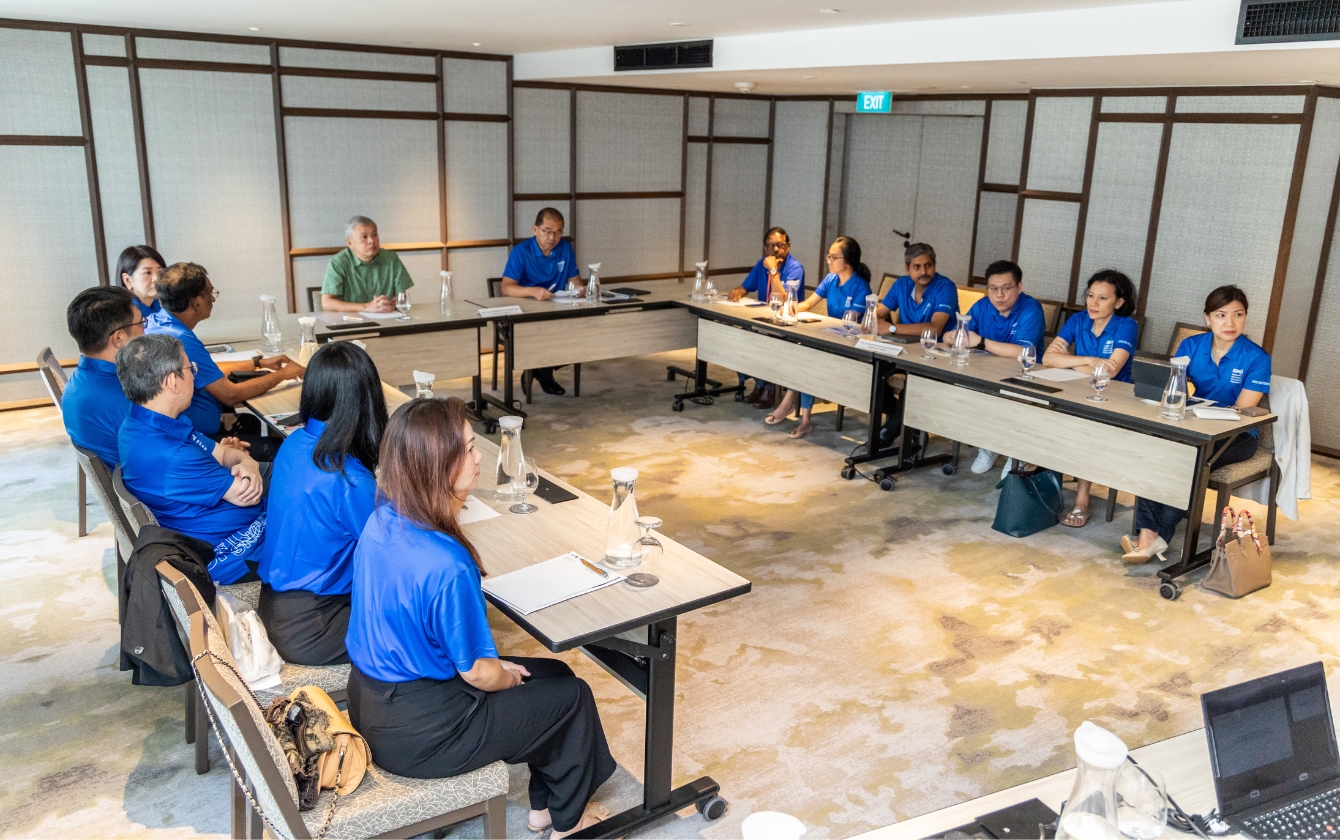 "Many of the service co-operatives are started to help the social aspects of our society," said Dr Leong, who is also the founder of GP+ Co-operative which was set up in 2018. Amid mask shortages during the pandemic, the healthcare co-operative collaborated with Singapore Statutory Boards Employees' Co-operative to distribute masks to the vulnerable groups, as well as distribute care packs to front-line security officers then. "I aim to help various co-ops to collaborate with one another more."
"My first involvement with SNCF was a study trip to China some 20 years ago. It was an eye opener, and I was really impressed with the comradeship among co-operators," said Ms Siow, the Managing Director at SeaCare Manpower Services. SeaCare Co-operative was set up by the union Singapore Organisation of Seamen in 1994 to help and benefit Singapore seamen and their family through work opportunities. "As a strong believer for lifelong learning, I hope to see more training being organised for members during my service."
"I hope to work with SNCF to capitalise on the synergies that we have among our cooperatives. We can then further propagate the awareness and workings of our co-operatives among non-members for them to understand the benefits and to be part of the movement," said Mr Tiwari, the Vice Chairman of AUPE Credit Co-operative. "More importantly, to work with SNCF to ensure co-operatives remain relevant in the future of work and sustainable."
"I would like to promote collaboration amongst co-ops across different sectors and to also serve the needs of Singaporeans," said Ms Ren, the Chief Financial Officer at The Singapore Teachers' Co-operative Society. "I look forward to support the co-ops in developing and implementing financial strategies to achieve sustainable growth for the co-ops."
Mr Tng has been elected as the Chairperson for the board, while Ms Thian is elected as the 1st Deputy Chairperson and Mr Shareef is elected as 2nd Deputy Chairperson. Mr Tiwari will serve as the Credit Sector Chairperson, Ms Siow will serve as the Service and Campus Sector Chairperson, and Mr Tan will serve as the NTUC Sector Chairperson. Mr Raghavan will serve as the Chairperson of the Audit Committee, together with Ms Halim and Ms Wan as the Audit Committee Members.

This also marks the end of service for Mr Yeo Chun Fing, Ms Shena Foo, Mr Allan Tok, and Mr Leow Teck Sim. SNCF thanks the departing Executive Council Members for their service.