By Sng Ler Jun
Member of Parliament (MP) Nadia Ahmad Samdin is a gregarious soul. "I have always been described as a straight-talker and a people's person. I believe in building bridges and bringing people from different backgrounds together," the 33-year-old explains.
Considering how the bulk of her career trajectory involves meeting new people, understanding different narratives, and may sometimes entail devising solutions that work, it's apt to call her a changemaker.
Her impressive portfolio saw her curating content on current affairs for Channel NewsAsia and providing sound advice in her previous job as a transactional lawyer in legal practice. Presently, she is serving the community at Ang Mo Kio GRC, specifically within the Cheng San – Seletar division, as an MP as well as working as Counsel and Senior Project Leader at a social impact firm, Tri-Sector Associates, to find new ways in harnessing the strengths from different parts of societies, towards tackling challenging social issues.
"There are many ways to create change," Nadia says, though she is quick to add that change does not happen overnight. Indeed, change needs time to run its course before its impact becomes discernible. For her, it's crucial that a changemaker learns to take on an empathetic stance and learn to steps into the shoes of other.
"We must remember that the goodness that change brings will never be about us. We are just a platform or driver of change," she muses. "What's more important is the lasting impact that change will leave, rather than the role that you played or how you went about doing it."
Which is why, along this vein, it makes sense that change begins when people congregate to banter about and cross-pollinate ideas on real world problems. And we believe that for Nadia, the work that she does today as an MP and a social impact advocate will see her building more robust bridges that hold the potential to empower communities.
Here, check out our exclusive interview with Nadia Ahmad Samdin.
Sng Ler Jun: You have had stints in different sectors, including legal, community work and social impact, what do you find most fulfilling in your time spent in each of these sectors?
Nadia Ahmad Samdin: In corporate law, nothing is a zero-sum game; there needs to be a win-win outcome for both parties. After two companies merge, you still need to work together. If I fight for my clients and your client loses, at the end of the day, when they come together, they will not be happy. So, you have to find a way where everybody wins a little – compromise can result in a better idea being formed than the original.
Even in media, there are opportunities to bring different perspectives to the table. It's impossible for everybody to think in the same way, we don't want that anyway. But how do different perspectives come together harmoniously and respectfully?
In what I do in the social impact space today, it is about bringing the people, public, and philanthropic sectors together. These are sectors which traditionally have different objectives, different points of view, different motivations, but at the same time they have different strengths which can complement each other. So how do you design models or systems that allow all that to gel well?
And I really enjoy understanding people, and building those relationships.
Ler Jun: Do you have a philosophy guiding you to create design systems or models to bring stakeholders together in the social impact space?
Nadia: There's a phrase: "The sum is stronger than each of its individual parts." When we think about these outcomes-based models that we are developing, what we really want to ensure is that there is additionality, that there is value add to the ecosystem. We are bringing in new mindsets – shifting the way people do things, moving from outputs to outcomes to impact.
Ler Jun: But change takes time, right?
Nadia: Yes, change takes time. I think for many of us today, we are very used to immediacy. The truth is that if you really want to move the needle, you need time. One of my favourite quotes is by Justice Ruth Bader Ginsburg, "Real change, enduring change, happens one step at a time." For me, I've always been a kind of person where I believe in explaining honestly, moving the needle inch by inch, and trying to get buy-ins and to persuade people. There are very few times when you call in a sledgehammer.
Ler Jun: Would you consider Justice Ruth as someone you draw inspiration from?
Nadia: Definitely. She was mission-focused, a master planner, and spoke plainly. As a woman leader, you really stand on the shoulders of those who have come before you.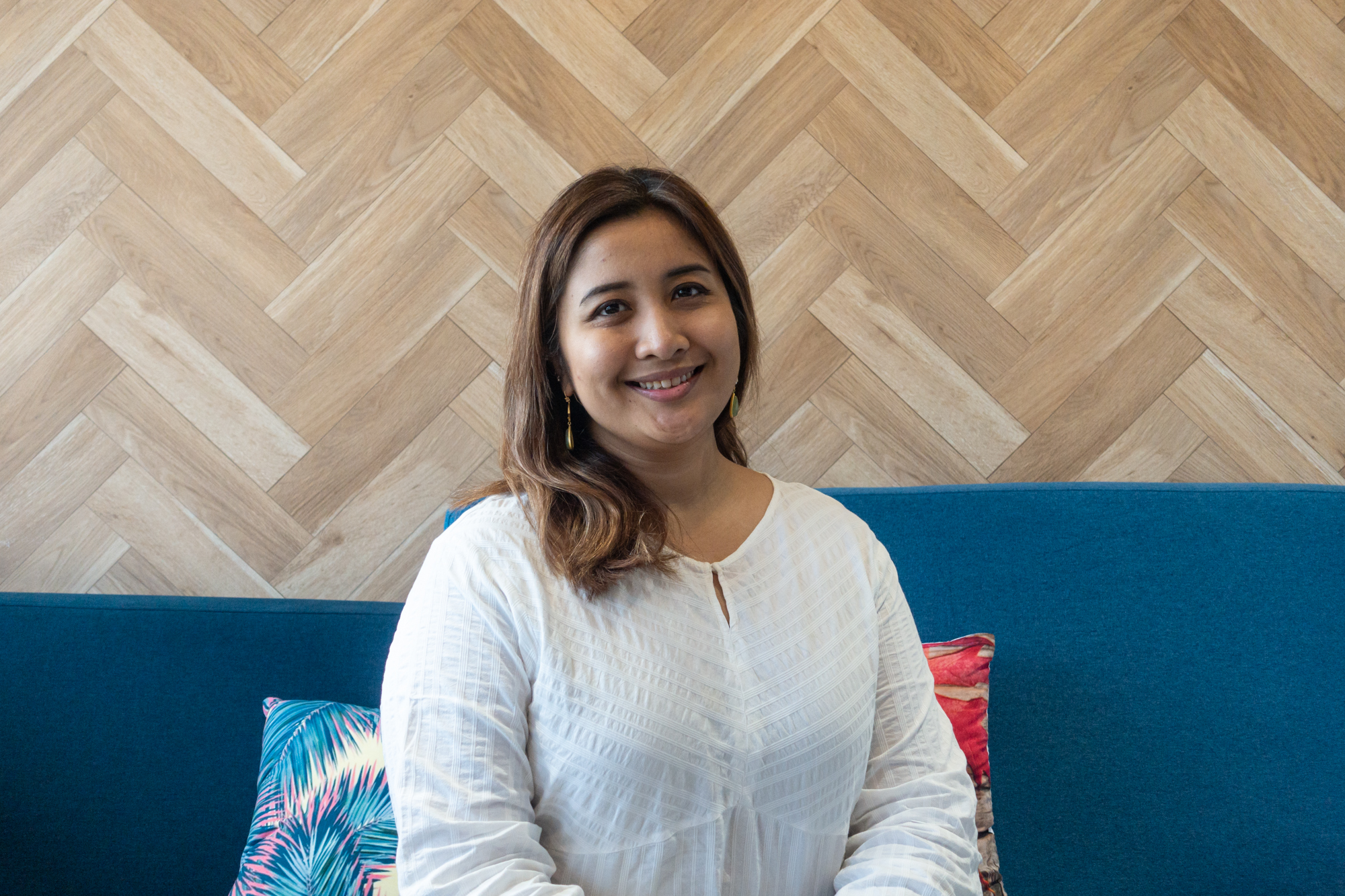 Ler Jun: On the topic of female empowerment, are there other women figures that inspire you in the work that you do?
Nadia: Prior to my batch when I first came in as an MP in 2020, there only had been four Malay women MPs in the history of Singapore. I was conscious that I am a part of a wider community, part of a wider representation that brings different voices to the fore. In deciding to run, I thought a lot about the younger Malay-Muslim girls I've worked with, and how I always encouraged them to step up and be their authentic selves.
That's not always easy to do, especially when you're in a room with people who look or think pretty differently from you. But, whenever I think about what my seniors have had to overcome in order to earn their seats at the table, and to still being able to retain their true selves, I get really inspired.
Ler Jun: Do you believe in work life balance or work life integration?
Nadia: When I was in law school, people often spoke about "work life balance", and I brought that to my work life for a while. I believed in having that boundary that separates work commitments and life as two equal halves. It didn't take me long to realise that there will never be clear separation between the two and sometimes you'll end up feeling resentful. I realised that within work life integration, you can still find balance.
I remember once when I was replying emails on my birthday, some of my peers suggested that I should take a break and give myself some space to relax. But when I honestly thought about it, I was reminded that my work is about creating impact and that I am serving the community that I love whilst working on the ground as an MP. Isn't it a great thing to be able to do what you actually love on your birthday?
Ler Jun: Who is Nadia behind the scenes and who is Nadia at work then?
Nadia: Honestly, I have always been what-you-see-is-what-you-get kind of person. It's tiring to be someone you are not!
Ler Jun: Do you get to interact with a lot of youths in your work? What do you think are some of the challenges the younger millennials and Gen Zs face today?
Nadia: Yes, I do. Youths today face a very different set of challenges from the generations that came before us. Many are worried about the uncertainty in their future, for example in terms of the economy and climate change. There is also technology and social media that changes the way we interact with one another. Youth now have to learn how to grapple with the drawbacks of interacting with others online, beyond the real-life relations in the classrooms. With memes and viral trends, things explode and implode and change in a day.
Being digital natives, they are getting exposed to so much information and data at their fingertips. It can be very challenging having to manage and process all of these different things in the physical realm as well as in the virtual realm, while balancing day to day life. In Singapore, our history of rapidly growing from third-world to first also seems so far away from the Singapore they know today. We experience different cultural influences and oftentimes forget we are still a young nation, navigating our identity and what we are willing to sacrifice in order to get what we want.
Ler Jun: What do you think of their ideologies?
Nadia: They're really intelligent, resourceful and inquisitive. They have a lot of questions, and want to be able to string these ideas and information together into something for themselves. I think they want to make sense of it. They are looking for a framework to understand. And when they put their minds and hearts to it and it clicks, then they decide to take action, honestly I think they will achieve even greater things than we ever have.
Ler Jun: Do you have a lot of youths on your team?
Nadia: I do! They are amazing; I am really grateful to have worked with so many of these youth volunteers. They see volunteering as being a part of the community. They don't just volunteer because they want to "give back" or clock community involvement hours. They volunteer because they simply want to do good.
This is a very important shift in the narrative because it's no longer about the individual coming from a different power dynamic and wanting to share resources, but instead they see themselves as part of the ecosystem and giving back because they care.
Whenever a youth reaches out to me to offer their time or ideas, I deeply appreciate it and feel hopeful that these are our changemakers in the next generation.
This interview has been edited and condensed for clarity.