By Sng Ler Jun
For Jasmine Chan, the executive director of Runninghour Co-operative, 2022 was nothing but an exhilarating rollercoaster ride.
A fresh face in the co-operative ecosystem, the 38-year-old only joined the inclusive sports co-operative in May last year, following a 15-year-long service in the Singapore Police Force. She was considering a second career in pursue of a more purposeful job. That was when she reconciled her passion in empowering persons with special needs. Recounting how she met Runninghour's founder John See Toh, who showed her how the co-operative could meld the best of both worlds together, at a volunteering event, she regarded this encounter and the eventual career change as a fortunate stroke of serendipity.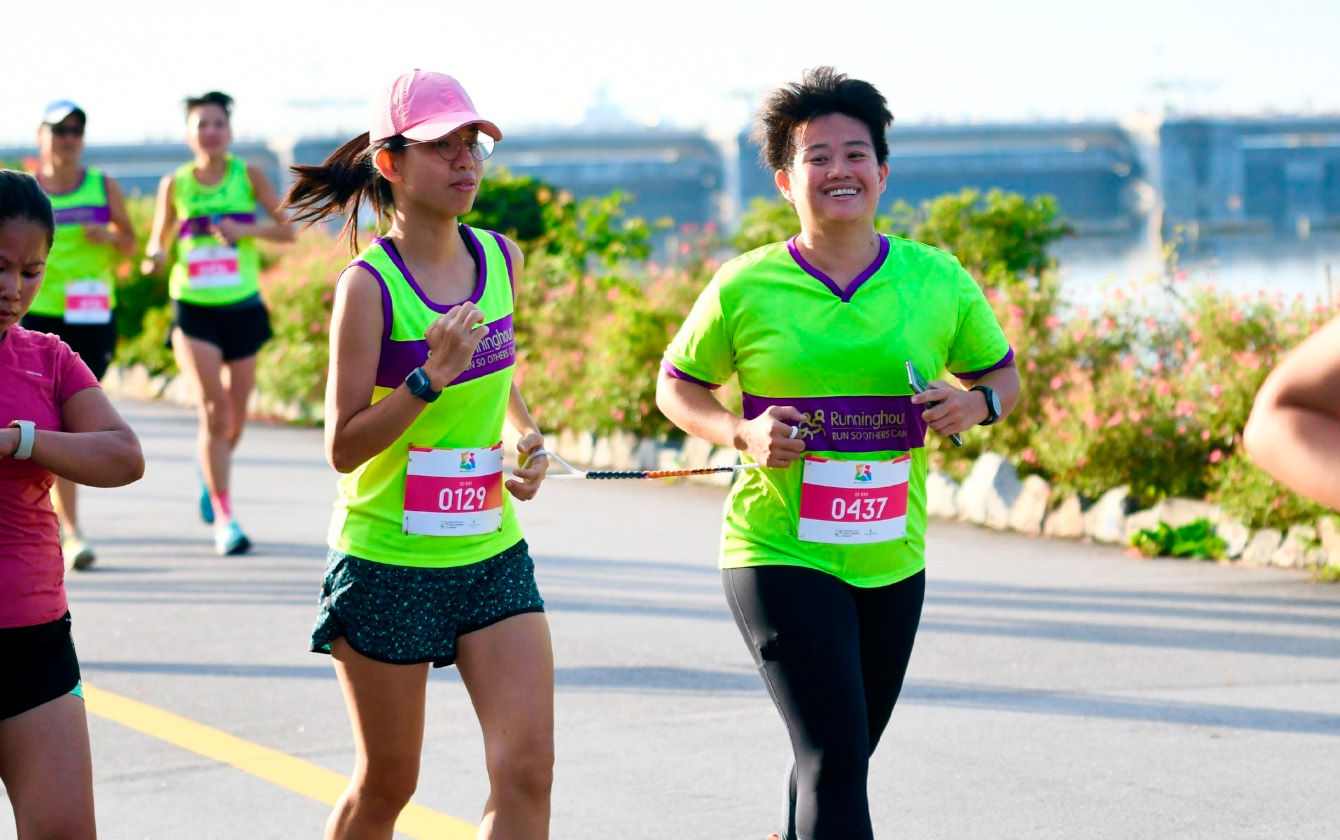 Her foray into the co-operative ecosystem soon saw her tapping onto her experience gleaned from the Force and expertise as a fitness trainer to curate training regimes to help the co-operative members. Functional movement has been a key tenet the co-operative's executive director is advocating for at Runninghour. According to Jasmine, an active lifestyle helps people with special needs practise their functional movement which is reportedly able to help them stay focused and improve their quality of life.
But just as opportunities in the co-operative ecosystem open for her, Jasmine recently met with a traffic accident. Following three surgeries, she was left having to use a wheelchair for a while and unable to resume her duties as a trainer and planner. On whether the accident threw a wrench in her plans for the co-operative, the bubbly co-operator was quick to dismiss so. In fact, because she was unable to use both hands and had to rely on a caregiver, she could experience some of the challenges persons with physical disabilities faced and how caregivers cope on a daily basis.
If anything, the mid-career switcher is a tenacious and energetic soul. Speaking to me right after she got the go-ahead to get off a wheelchair and had one of her casts removed, Jasmine details Runninghour's goals: to better integrate persons with special needs in society today through sports.
On how she envisions this happening, Jasmine reveals that cooperation and collaborations are key actors to doing so. This includes creating platforms to normalise the interactions with persons with special needs. Today, the co-operative organises weekly runs, walks to train or induct volunteers to guide persons with special needs. The co-operative also has a SkillsFuture course "Understanding and Interacting with Persons with Special Needs", which will be facilitated by persons with special needs. The recent flagship Run for Inclusion event, which was graced by President Halimah Yacob, was another initiative to raise awareness and promote integration.
According to Jasmine, Runninghour hopes to set up an inclusive club house with amenities that is run by and for persons with special needs.
Here, read our in-depth interview with Jasmine Chan of Runninghour Co-operative.
Sng Ler Jun: Tell me about yourself.
Jasmine Chan: I am Jasmine, a former Police Officer who has been in the force for 15 years before taking that leap of faith to work at Runninghour Co-operative.
LJ: What are your roles and responsibilities at Runninghour Co-operative?
JC: As Runninghour Co-operative's executive director, I look into the possible collaborations that Runninghour can participate in as well as bringing Runninghour to the next level through our events and activities. Training is also a big thing under my portfolio too.
LJ: How did you hear about Runninghour in the first place? Why did you decide to join the co-operative?
JC: I was volunteering at the Singapore Association of the Visually Handicapped and that was where I met John, who introduced me to the co-operative. I had just finished reading the book "Finding Meaning in the Second Half of Life" by James Hollis and contemplating a career transition. Back then, I thought of becoming a Physical Education teacher because it aligned my interests as a trainer.
But I realised I also had an interest to help people with special needs. When I met John and learned about Runninghour, I realised what the co-operative advocates for and does really match my interests. Everything fell in place really nicely then.
LJ: Was that transition from being police officer to working in a co-operative any difficult?
JC: On the contrary, it was rather natural. I was able to apply my knowledge and skills that I picked up from the Force at Runninghour. For me, risk evaluation and event management are some of the skillsets that have been most invaluable. Planning activities for our members would not have been carried out so smoothly if we had failed to keep safety and accessibility in mind.
LJ: From learning the nuts and bolts of the co-op to planning the Runninghour's flagship Run for Inclusion in early December, things seem to be going full speed ahead for you since joining the co-op in May last year. But unfortunately, you have also recently gotten yourself into a traffic accident which saw you undergoing three surgeries and using a wheelchair. Did that throw a wrench into your plans?
JC: I didn't see it as a wrench. It was definitely unlucky. On the bright side because I was on wheelchair and unable to use both my hands, I was able to relate to some of the challenges persons with physical disabilities face. I needed to have a caregiver to wheel me around from one medical appointment to another and that, too, shed some light to the plight of some caregivers.
LJ: What is one other thing you learned from this ordeal?
JC: I realised that people do care about you, but the way some of them quip about my conditions may come across as a bit insensitive. I recall needing to explain what happened to me more than 30 times at the RFI event. It was mentally draining; I couldn't imagine how persons with special needs and their caregivers do it. That said, I understand that people ask because they are concerned. Perhaps, they may not have an awareness; you'd never know. My experience taught me to be more mindful when approaching a topic that may be sensitive.
LJ: From Zumba to guided runs and walks, there are a whole lot of activities going on at Runninghour. What else did I miss?
JC: On one Sunday every month, we go on a hike in different parts of Singapore. So far, we have been to Bukit Timah Nature Reserve, Sentosa Coastal Walk, and even the Singapore Botanical Gardens. In visiting these different places, our Runninghour guides would narrate the route and provide informational tidbits. We would also take photos and have our buddies bond with our guides too.
LJ: Your work requires you to match volunteers, or 'Guides' as you call them, with persons with special needs. How do you go about doing this matching?
JC: We have different calibers of participants. Some of them prefer to run shorter distances while others enjoy longer ones; some are very independent while others require guidance and tethers. When the volunteers sign up for guided runs and walks, we get them to indicate their interests in doing short, medium or long distances. They have to go through an induction and some simple trials to get a sensing of our buddies' running pace. I also go on these runs and whenever I am there I would observe and offer advice whenever necessary.
LJ: What are some misconceptions people have for persons with special needs?
JC: One, people may think that disabilities equal to having a handicap. But 'handicap' is such a strong word that many persons with disabilities don't approve. Then there are others who don't see past the disabilities. Rather than recognising them by their characters and capabilities, they identify them by their disabilities. Don't be afraid to treat persons with special needs normally. Like you and me, they are unique individuals.
LJ: Runninghour Co-operative aspires to better integrate people with special needs into society. How can we help promote this integration?
JC: Through simple education, and by advocating in different aspects of our lives, whether in your workplace or at home. At our RFI event, we offer the option for the public to learn how to guide persons with special needs on walks and runs.
LJ: What is one thing the Runninghour is seeking to do today?
JC: We want to collaborate with different organisations, including other co-operatives. Our focus has always been on creating outreach programmes to raise awareness for persons with special needs, and we want other organisations to learn how to normalise these conversations.
LJ: Why do you think it is important for persons with special needs to lead an active lifestyle?
JC: Functional movement—the ability to move the body with proper muscle and joint function for effortless, pain-free movement—is crucial for persons with special needs. This is something I want to educate them at Runninghour. These fitness runs teach our participants, both buddies and guides, to be more conscious about how to use their body more efficiently. In staying active this way, it also helps them to be more focused and do work without compromising.
Additionally, keeping an active lifestyle can elevate our members' mental health, promote bonding with one another, and forge friendships.
LJ: What do you find most fulfilling about what you do at Runninghour?
JC: Every moment is fulfilling. I am happy to see the smiles and observe how our members are all building a more inclusive society and creating this sense of belonging, or friendship, between our buddies and guides.
LJ: What other new initiatives can we expect from Runninghour in the future?
JC: Maybe creating an inclusive gym? Adding an inclusive cycling academy into our regimes? We are also looking to create an inclusive clubhouse with cafes and other amenities run by our members in the future. We may not be there yet, but I am sure we are taking baby steps.
This interview has been edited and condensed for clarity.