By Sng Ler Jun
"Co-operatives are resilient and relatable enterprises," Mr Tng Ah Yiam, Chairman for the Singapore National Co-operative Federation (SNCF), said at his opening address at the Annual Co-operative Leaders' Conference (ACLC) 2022.
Taking place in Kota Kinabalu in Sabah, Malaysia from 5 to 8 November, ACLC 2022 saw around 120 participants, including 93 co-operative leaders, making their first overseas travel together since 2019, before the pandemic upended travel plans. The last ACLC was held locally in Singapore a year ago. The conference was last held overseas in 2019 with participants travelling to Ho Chi Minh city in Vietnam, while ACLC 2020 was cancelled.
A total of 11 credit co-operatives, nine service co-operatives, three NTUC co-operatives, and one campus co-operative were present at ACLC 2022.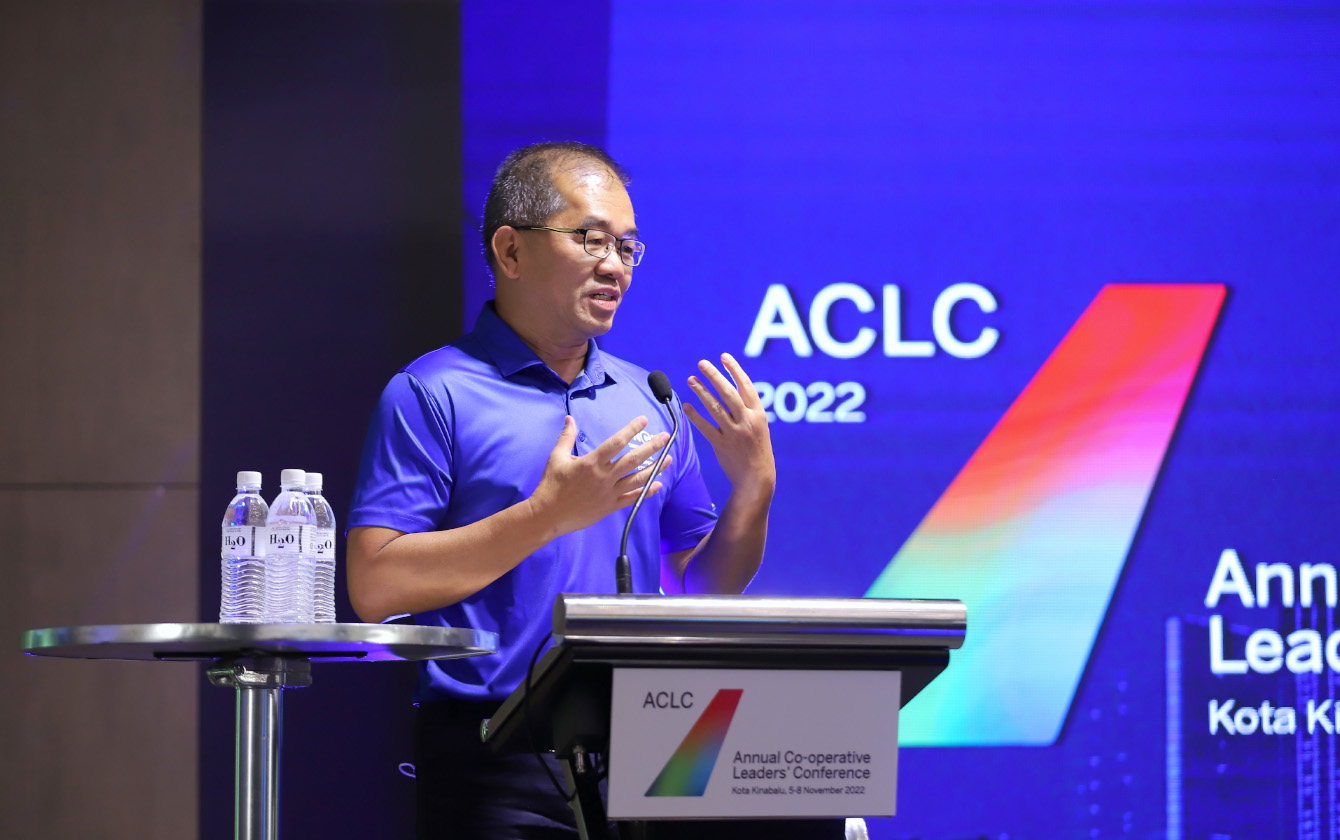 Empowering communities
Several surprises headlined the highly anticipated conference, including the soft launch of the new Singapore Co-operative Movement logo.
Months in the planning, the new logo aims to rejuvenate the Singapore Co-operative Movement in the public mindshare. "Through this logo, we hope to bring together co-ops to celebrate the movement and shared goals," Mr Tng said, hinting at the Federation's move to market the co-operative movement next year.
The logo's slogan 'empowering communities' also tips hats to the co-operative principles and values. "The new logo is vibrant and sheds light to what's coming up next on the horizon," Ms Jenny Koh from campus co-operative Ngee Ann Polytechnic Consumer Co-operative Society Limited said.
"The new logo injects vibrancy into Singapore's Co-operative Movement and acts as a timely reminder to cooperatives about their mission and objectives with a refreshed sense of vitality and energy," Mr Stanley See from credit co-operative Straits Times Co-operative Limited said.
Chairman of Singapore Government Staff Credit Cooperative Society Mr John Raghavan, an SNCF EXCO member, said: "The new Singapore Co-operative Movement logo comes very timely. For different co-operatives from the credit, service, NTUC and campus sectors, being united as one umbrella speaks volume of the work we do."
Everyone is susceptible: Tan Yong Seng, Cybersecurity keynote speaker
The issue of cybersecurity has been the talk of the nation in recent months. Last month, local eCommerce platform Carousell suffered a data breach that affected 2.6 million users. In September 2022, Singapore's offshore and marine giant Sembcorp Marine also reported a cybersecurity incident where an unauthorised third party accessed part of the IT network.
"The main cause of data breaches or cybersecurity incidents happened due to human error," said Mr Tan Yong Seng, Chief Infrastructure and Security Officer at NTUC Enterprise Co-operative Limited.
Understanding the motivation behind these threat actors can help organisations formulate strategies to protect themselves. These motivations can run the gamut from seeking fame to causing malicious harm. The key to dealing with such unprecedented cyberattacks is to be as disruptive as possible.
Ensuring devices are updated, having lengthier passwords (of at least 13 characters with unique symbols, upper- and lowercase letters, and random numerical digits), and changing passwords whenever prompts appear are some of the ways to be disruptive. More importantly, co-op employees should be educated on the characteristics of phishing emails and ransomware that plague organisations and individuals today.
The conversation intensified in the following cybersecurity panel discussion, helmed by Mr Tan, SNCF EXCO member and Group Vice President (Asia) of San Francisco-based tech company Splunk Ms Raen Lim, and SNCF's Assistant Chief Executive Officer Ms Adeline Kee. Co-operative leaders were reminded to be vigilant when using public Wi-Fi and utilise the 5G network for added security when in public. Singapore is among the first countries to have provided nation-wide 5G services which enabled secure, mission-critical applications.
Co-ops can consider outsourcing operational tasks, including cybersecurity-related projects, to top providers who are certified while focusing on driving profits and delivering their social missions. "It is the due diligence of the project manager to ensure that third-party service providers protect their assets," Ms Kee said. "These vendors should have relevant cybersecurity certifications and are audited regularly."
Co-ops can consider employing a Chief Technology Officer (CTO), similar to Mr Tan's job scope, to bolster their cybersecurity defenses.
SNCF will work closely with the Registry of Co-operative Societies (RCS) to reward co-operatives who have shown to have implemented basic cyber hygiene measures to protect themselves against common cyber-attacks. Co-operatives looking to embark on their cybersecurity journey can consider researching the Cyber Essentials mark by the Cyber Security Agency.
"The session on 'Navigating the Cybersecurity Landscape' and subsequent panel discussion were exactly what we needed to bring awareness and focus attention on cybersecurity," reflected Ms Wily Wan, an SNCF EXCO member and also the Associate General Counsel at Meta. "I hope that attendees will be inspired to start discussions (if they have not already done so) within their organisations on what they can or should do to try and mitigate this risk area."
Let's not wait for a crisis to react: Jessie Ho, Crisis Communication keynote speaker
How can co-operative leaders navigate the social media space when a crisis happens to ride out the buzz? What communication messages should co-operatives dole out when badgered by the public or the media? What is the role of the media in today's competitive landscape?
These were the guiding questions that Ms Jessie Ho and Ms Anne Phey, the leadership heads at Singapore-based PR agency Ninemer PR and Communications, wanted co-operative leaders present at ACLC 2022 to ponder. "It's good to assure the public or the media, and gain their trust back," Ms Ho, who has had decades of experience helping organisations, including co-ops, handle communication crisis, said.
The media is never the enemy, Ms Ho emphasised, highlighting that it is the media's prerogative to question and dig for answers for the public. Along this vein, the media can be leveraged to appease and assure the naysayers. Ms Phey also highlighted that traditional media, such as print newspapers and TV news, are losing out in the social media era. Ms Phey said: "These days, we receive news instantaneously on social media, such as citizen journalism website Mothership, before the news hit the printed press or TV."
One of the case studies that hit home is related to local supermarket co-operative NTUC FairPrice. When the island-city first caught wind of the pandemic, sparking rampant panic buying of essential supplies, such as toilet paper, at local supermarkets. Many expressed dissatisfied online when news of empty shelves of toilet rows hit the press. To quell the noise, the then-NTUC FairPrice Group's chief executive Seah Kian Peng called on the press to one of its factories to showcase the inventory of toilet rolls. The following day, a photograph of him standing in front of the inventory of toilet rows appeared on the front pages of several local dailies. "A picture speaks a thousand words," Ms Phey said.
Co-operatives should look into developing a crisis communication team to anticipate crises and handle these hurdles that come their way. Beyond coming up with communication strategies, such as hosting a press conference and publishing a timely social media post, the crisis communication team should help align the messages to be disseminated to internal stakeholders.
"Every crisis can present an opportunity too," Mr See added: "Empathy is also of paramount importance when dealing with a crisis, but it also must be followed by actions to salvage a situation and reduce the impact of a crisis on the victims."
Charting Co-operatives' Future
Co-operatives in Singapore have played a pivotal role in the growth and development of Singapore over the last century. Recognising that co-operatives will continue to be a key stakeholder in Singapore's growth, SNCF, alongside the RCS, took the opportunity at ACLC 2022 to engage co-operative leaders in the Forward Singapore exercise.
The Forward Singapore exercise is a collective effort led by Singapore's Deputy Prime Minister Lawrence Wong and his 4G leadership team, working in partnership with Singaporeans, to review and refresh the nation's social compact and set out the roadmap for the next decade and beyond. A social compact is a shared understanding of how individuals, whether they are policymakers, businesses and even co-operatives, in society relate to one another.
A report will be published at the year-long exercise in mid-2023, which will later be referenced on to set up policies.
At the conference, Minister of State for Culture, Community and Youth & Trade and Industry Alvin Tan opened the Forward Singapore exercise in a pre-recorded video. He said: "Co-ops are really well-placed to step up even further and play an important role to refresh the social compact."
MOS Alvin Tan also praised co-operatives as social enterprises that care for its members and in doing so build communities. "It is this spirit of mutual assistance (that co-ops have) that is essential as we go on to the next chapter of our nation building," he said.
Thereafter, co-operative leaders were then split into different groups across two venues, where discussions that took place were facilitated by SNCF's EXCO and staff members. In these discussions, co-operative leaders were quipped on the roles co-operatives can play in strengthening the nation's social compact as well as how they can better distinguish themselves from other social enterprises.
On what he thought of the Forward Singapore exercise, Mr Daniel Chua of NTUC First Campus said: "(The exercise) is a reminder that as co-operatives, we can play a role in shaping Singapore's social compact for the next decade. Simply put, it's about doing more together."
"Even within the short span of time to discuss at the respective tables, there were many meaningful revelations," said Mr Eric Song, a representative from SASCO Ltd. "Each co-operative has to find their own inner compass again; they have existed for a certain cause and function, and they may need to expand or extend to other functions to serve their 'potential' members."
Interviews for this story has edited and shortened for clarity.
A condensed version of this story was published on International Co-operative News on 5 January 2023.