Gorgeous, gorgeous national day fireworks are set to return to the heartlands this year. ICYMI, here's where you can see them for free in Singapore.
That's right, after two years of downsized celebrations due to the pandemic, this year's National Day Parade (NDP) will resume celebrations at the Marina Bay floating platform, with spectators and performers returning en masse.

Last year's NDP was postponed to August 21 after the scheduled end of Phase 2 (Heightened Alert). A year earlier, NDP 2020 was not held in its traditional form but, instead, it was scaled down and split into two shows.

The show segment for NDP 2022 is directed by local veteran actor and co-founder of local theatre company Pangdemonium Adrian Pang. This will be Pang's first time directing the NDP 2022. He brings along his experience as a theatrical actor and director for "The Story of Us", the show's title, which not only acknowledges the hardship Singapore faced in the last two years, it also hopes to instill optimism for the nation.


NDP 2022 is expected to see over 20,000 spectators live at the floating platform, as well as millions of others who are streaming live from home. According to the Straits Times, NDP 2022 will see the largest youth participation – a whopping 1,300 people – in recent NDP history.
In the same interview with the national daily, the theatre veteran says: "As artistic director of Pangdemonium, I've always felt that meaningful theatre is not only entertaining but also enlightening and enlivening; it is stimulating and makes people think, feel, talk and reflect upon their lives. I've tried to create a show for the nation that embraces all these things."

Of course, following the past years' postponement and disruptions, many of us are glad to know that the Garden City is also going all out with the fireworks display – yes, some displays are taking place in the heartlands!
Finally, in case you don't want to miss it all, here're the timeslots the fireworks are expected to go off during the parade (courtesy from Honey Kids Asia):
6.24pm: Low fireworks
6.54pm and 7.07pm: Stage fireworks
7.35pm: Stage laser, fire display, and fireworks
7.49pm and 8.01pm: Stage fireworks
8.12pm: Stage fireworks and fire display
8.23 to 8.27pm: Fireworks show
8.29pm: Fireworks (National Anthem)

If you are planning to catch these gorgeous fireworks in real-time and for free, read on to find out more!
1) In the heartlands
"Fireworks in the heartlands" returns this year at five different locations around the island. You can catch these fireworks up close at Jurong West Stadium, Woodlands Stadium, Bedok Stadium, the site of former Tampines Junior College, and the field in front of Ang Mo Kio Public Library.
If you intend to go, remember public viewing is available on a first-come-first-served basis; we recommend going earlier to chope your spots. Do remember to bring portable chargers, portable fans, some snacks, and extra face masks!
2) Marina Bay Sands
If you don't already know, the Marina Bay floating platform will be redeveloped into NS Square, a one-stop community space with sports facilities and a new public waterfront promenade. This means 2022 will likely be the last year you can catch the parade taking place at the floating platform. Which makes it all the more significant to catch the celebrations in the vicinity.
That said, there are plenty of good viewing opportunities in and around Marina Bay Sands. Check out our selections:
•
Marina Bay Waterfront
•
Helix Bridge
•
Marina Barrage
•
The Promontory and The Lawn @ Marina Bay
•
Benjamin Sheares Bridge (a considerable walk away)
Once again, snag your seats as early as possible and do stock up on snacks and masks!
3) Bay East Garden at Gardens by the Bay
Get lost in nature amidst the tall, man-made canopies of "Supertrees" and cooling "Flower Dome" at Gardens by the Bay this National Day. There are plenty of spots to catch the fireworks at the parade.

If you are heading there, do bring a mozzie or insect repellent.
4) Esplanade Rooftop Terrace
The open-air rooftop within the iconic durian-inspired theatre is a good spot to catch the fireworks at NDP 2022.
5) Singapore Sports Hub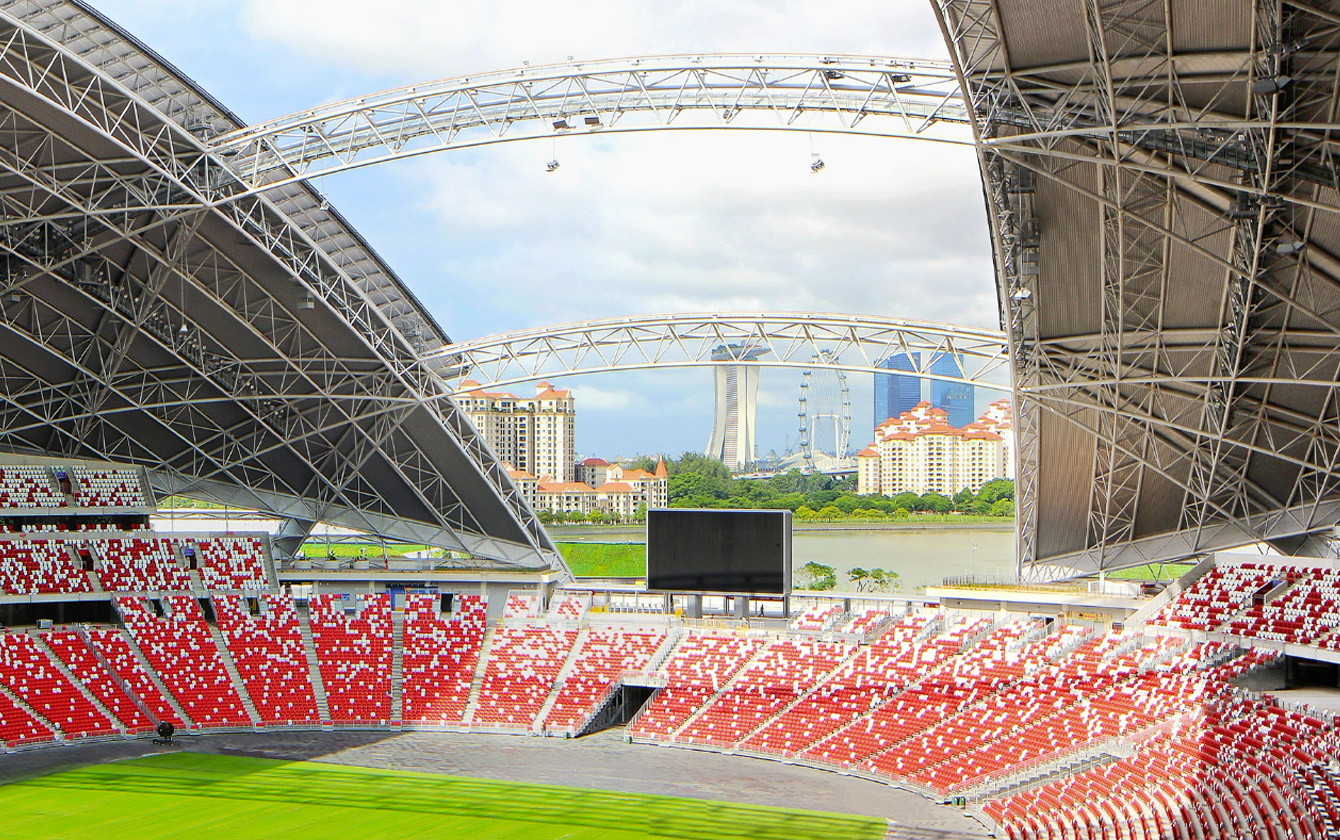 The newly revamped Singapore Sports Hub will be hosting a live screening of NDP 2022 at the OCBC Square and the Stadium Roar. Expect to participate in the iconic "Kallang Wave" or "Singapore Roar", and steep yourself in the celebratory mood alongside many others here. You can either catch the fireworks on screen or at the Stadium Riverside Walk.
If you are there early, you can even take home a goodie bag or two too!
---
If you are okay with paying a fee to enjoy dinner, alongside the stunning fireworks, check out these restaurants. That said, you will have to call to reserve a spot.
• CÉ LA VI Singapore – a rooftop bar in Marina Bay Sands Hotel
• Marina Bay Sands SkyPark – an Observatory Deck in Marina Bay Sands Hotel
• Super Loco Customs House – a Mexican restaurant and bar with al fresco dining, and yes, you get to view the floating platform there!
• Smoke & Mirrors – another rooftop bar within the Old Supreme Court building; perfect to sip a tipple while relishing in chill wind and taking in the majestic fireworks
• LeVeL 33 – this rooftop restaurant, which sits on the 33rd storey of the Marina Bay Financial Centre Tower, boasts an unobstructed view of Marina Bay Sands hotels and the floating platform, as well as features the world's highest urban microbrewery
Feature Image by Pioneer Singapore.
By Sng Ler Jun